It's Good Friday so everyone who celebrates Easter is thinking ahead to Easter Sunday. They are thinking about Easter Eggs, Easter Dinner, Church but most of all
'What to Wear!'
I personally think that Easter is not celebrated enough. It is supposed to be the biggest day in the Christian calender yet, Christmas is so much bigger and much more commercial.
Even though Easter isn't Christmas you still want to look nice and look like you have made an effort. I have put together some outfits that I think would look great for your Easter Sunday!
FORMAL SPRING CHICK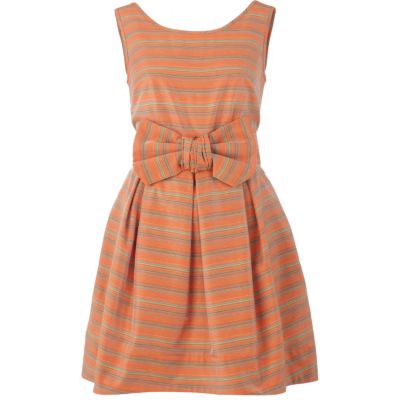 Orange Stripe Bow Front Prom Dress
River Island - £44.99

I think that this dress has Easter down to a T. The pastel shade is spring like, whilst the bow makes it more formal for the occasion.

Stone Cut-out Sandles
Dorothy Perkins - £16.00

These sandals would look fantastic with the dress. They are delicate which will create a contrast from the boldness of the dress.
The pearls make the look more sophisticated.

Oval Pearl Collar Necklace
Accessorize - £16.00




FUNLOVING EASTER DAY

Delano Jumpsuit
Monsoon - £95.00


Jumpsuits are all 'in' this season and if they are worn with the right shoes and accessories they can look great! This jumpsuit has a floral pattern on a pastel pink background.

Canvas Slingback Heels
New Look - £24.99

These shoes will look incredible with the jumpsuit. The blue will tie in with the blue in the floral pattern. The heel will give you hight because hight is a key component in looking good in a jumpsuit!

Claw set Pearls stretch bracelet
Accessorize - £12.00

These pearl bracelets will really finish off the look. No necklace is needed because there is a lot going on in the jumpsuit. However as there are no sleeves these pearls will make sure your arms do not look bare and boring.